Tree Removal – Two Crucial Factors to Keep in Mind
Tree removal procedure requires in-depth knowledge and experience to overcome any possible harms and risks. Especially, if the trees carry the threat of destruction and damage to people, plants, and trees, finding a credible arborist is essential. The process of removing a tree is not simple and it requires qualified arborists who have experience in operating machinery for tree removal in Melbourne.
What to take into consideration while hiring a tree removal service within Melbourne?
•Do not forget to check your area regulations. Regardless of the location of your trees, whether on a private land or not, please take your time to understand laws and regulations around tree removal.
• Seeking permission from your neighbours, if a part of the tree is in your neighbours' area, would be necessary before your arborist can initiate the tree removal procedure.
• It is always a good idea to consult to your arborist about whether your contractor has an insurance or not. Being prepared for any kind of injuries would be beneficial for both you and your trees.
• If your tree trunk is decaying, you might need to take some extra precautions before initiating the tree removal procedure. There are some ways to understanding if your tree trunk is in a good condition or not. Your tree is decaying if you find red dust on the bottom of the tree, bugs or mushrooms living in the tree trunk, dead tree bark which is visible outside of the tree and discoloration around the tree trunk. If you see any of these signs, you should contact a tree removal service in Melbourne immediately.
• To be sure about the expertise and validity of your tree removal service provider, you can always check their website for testimonials, references from previous clients, industry knowledge, previous work such as their portfolio page and the years of operation and expertise. Feel free to contact the tree removal service providers for any questions.
• If your tree has started to tilt and its shape has started to get distorted, it needs to be removed. The reason behind the changes in tree shape and standing is mainly due to the damages and weakening in the root structure. That is why the tree should be taken down for safety reasons as it may cause bigger problems in the future such as affecting and damaging the surrounding trees.
Besides all of these points, your arborist should implement a detailed harm and risk assessment to find out what can cause harm during and after the tree removal procedure.
Things to consider while implementing harm and risk assessment
• Reviewing incidents and injury records of the workplace to avoid any surprises
• Thinking through manual tasks that include pushing, lifting and holding machinery
• Contacting overhead electric lines or under-ground services
• Asking workers about the problems that they may have identified at the workplace
• The stability and integrity of the trees
• Weather conditions that might cause damage to your property
• Access by people and the regulation of the traffic
• Reviewing ground surface condition; type of soil, under-ground services, under-ground tanks, leach drains
• Animal and insect management
• Visual tree assessment: hazards, condition, structural integrity, location, wind loading
• Unexpected falling branches can cause serious hazard. That's why your tree removalist's utmost care on cutting the branches clearly is very important.
• The factor of height includes the possibility of harm. Tree removalists need to have the adequate equipment and machinery to overcome the spectacle of height and the damages that it might possess.
All these things form the basis of a site-specific harm and risk assessment for tree removal in Melbourne and decision making on whether a tree is safe to remove or not.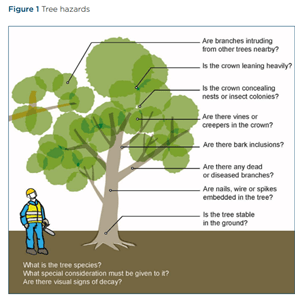 Figure 1 Source: Safe work Australia
The points discussed above on what to consider before hiring a tree removal service in Melbourne and the need for a risk and harm assessment show that tree removal is a process that needs to be prepared beforehand. The most convenient way to get prepared is to be in a mutually beneficial communication between the arborist and the client. That is why you first instinct should always be consulting to your arborist about any of your concerns, comments, requests, and feedback.