Do you need an arborist report in Melbourne?
Max Tree Services work with qualified arborists to produce arborist tree reports that are cost effective and meet council specifications.
What is an arborist?
Put simply, an arborist (or tree surgeon) is a specialist in the study of trees and shrubs. An arborist is the expert for a tree's structural problems, the best way to prune them for health and street appeal, selecting the best species for a specific form or function and knowing what diseases affect which trees.
What do arborists do?
A professional arborist is a person who specializes in tree care. They have extensive knowledge and experience, and can diagnose and treat trees and tree diseases. In addition, they can also recommend treatments for your trees and landscaping, and provide preventative care
What is an arborist report?
An arborist report is a written document that gives a professional assessment of trees on your property. An arborist can provide you with advice on how to care for your trees and how to prevent problems, as well as provide an estimate of the value of your trees. An arborist can also advise you on tree removal if the trees are causing damage to your property or interfering with other structures
An arborist report is a document about the health, amenity value, vigour and the safe useful life expectancy of the tree which is presented to the local council in melbourne. In general an arborist report is needed in the application of tree removal. Normally councils in Melbourne have an in-house arborist but they have a 3rd party arborist for a second opinion depending on the job.
Who can provide an arborist report?
Arborists who are certified as a professional tree expert are able to perform a complete analysis of your trees, including an assessment of potential hazards, an inventory of existing trees and a proposed plan for tree removal and replacement. These arborists can develop a tree management plan that will help you keep your trees healthy and reduce the need for pruning or tree removal in the future. Arborist reports Melbourne are done by Certificate IV (5) arborists.
How much does an arborists tree report cost in Melbourne?
An Arborist tree report costs an average of $500 but the cost will vary from city to another and will depend on the number of trees involved.
When would I need an arborist report?
There are a number of scenarios where you may require an arborist to curate a report for you.
New Property Purchase in Melbourne:
Prior to buying a house or land with a large number of trees, or trees of a significant size, you may want to engage an arborist to provide information on:
Overall tree health

Current structure and stability

Species present

Potential growth and overall size

Any laws applied by council in Melbourne for their maintenance or removal.
Current Property Owners in Melbourne:
For peace of mind, home or business owners will call an arborist to report on the health of the trees, not only on their property, but also in their surroundings. Information will include potential branch failure, any invasive tree roots, a visual check of the neighbour's trees for disease or areas of concern. Advice on the care and maintenance of the trees is also provided.
Builders/Renovators in Melbourne:
When engaging an architect or draftsman for a new build or major renovation, they may request an arborist report. This will be not only for the trees on your land, but also those of your neighbours. In this instance, the report will provide valuable insight into how the tree's growth will affect the natural light of the construction, movement and growth patterns, how they can be incorporated into the design and if there is likely to be significant debris – useful for when planning the location of a swimming pool!
Before large scale building, the report will consider the impact of construction on other trees in the area. Arborists reports are prerequisites for any developers looking to clear land.
What's included in an arborist reports Melbourne?
Most arborist reports are prepared for council applications in Melbourne. As such, your arborist should be familiar with the requirements of each council and prepare the report to their specifications. In general, the report will include the following:
The overall health and conditions of the trees on your property

The overall health and condition of the trees in neighbouring properties

Other trees in the neighbourhood including the nature strip and on council land

Whether any trees are a hazard to people or property

If there any issues that need to be managed e.g. limb or tree removal, regular pruning requirements, potential for infections or pests (old stumps etc.)
Max Tree Services engage external consultants to prepare their arborist reports. Their arborists are all members of VTIO (Victorian Tree Industry Organisation) and have a minimum of 10 years' experience working in and around the Melbourne area.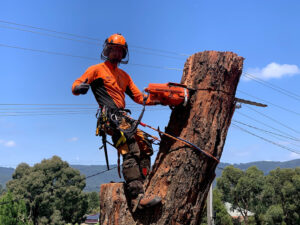 Arborist reports for tree removal
An arborist report for tree removal will determine if a tree is a hazard to the surrounding property. A tree that is growing invasively or has decaying limbs that could damage other property should be removed. An arborist can determine if a tree poses a hazard by performing a complete evaluation of the tree and surrounding area. For example, the arborist will thoroughly analyze the tree's health and growth, determine if it is a hazard to people or property, and evaluate whether the tree can be saved or requires removal.
What is a Certificate 5 Arborist?
 A Certificate 5 Arborist is a professional who has completed a 2-year program and has a license to perform tree care and maintenance on properties, including planting and pruning. They have been trained to diagnose tree diseases and insect infestations and treat them using certified arborists. They also have the knowledge and tools to clear trees and limbs that are interfering with power lines, driveways, landscaping, or other structures on your property
What is the difference between a tree report and an arborist report?
Tree report and arborist report are usually two different documents but they can sometimes be combined. Often, a tree service will combine these two reports into one report that covers all the tree-related services performed for an account. 
This report will generally include different sections for tree care and tree removal. It may also include other sections, such as storm damage management or pest control, if those services were provided.
A tree report is a report on trees that a tree expert has inspected. The report will describe the trees and describe the health of the trees. It will also describe any possible hazards to the trees or the surrounding areas. A tree report is not a tree cutting report. A tree report will not list the species of a tree and will not offer advice on pruning or removal.
FAQ | Arborist Report
How much does an arborist report cost in Melbourne?
Arborist report cost in Melbourne
Without a clear understanding of your particular needs and the intended use of the report, it's impossible to know the exact cost of your arborist report. Some arborists charge a flat rate based on the number of trees involved or by the size of the property. Still others use a time-based rate for the amount of time it takes to produce and deliver the report.
How long does an arborists report take to write?
Time needed to write an arborists report
It all depends on the complexity of your tree removal. If you only have a few branches to remove, the arborist tree report will take less time. However, if you have a large tree that needs to be completely removed, it will take longer. Normally an arborist will take roughly a full day to inspect the tree onsite then put the report together when they are back in their office which consists of 12-30 pages long.
Does an arborists report guarantee approval for removal?
Arborists report guarantee approval for removal
No. The final decision to approve or disapprove a tree removal is entirely up to the Council. An arborist can recommend removal based on your property's specific tree removal needs and the tree's condition. A professional arborist can also help you prepare for the process, such as gathering documentation of the tree's value and history.
How long is an arborist report valid?
Validity of arborist report
A report is valid for one year. This means you can request a report at any time during the year, but the report will only cover activities that occurred within the previous year. For example, if you request a tree inspection report in October, the arborist will only include information about trees that were inspected in the spring of the previous year.
Looking for a qualified arborist to prepare your tree inspection report?
Talk to Max to find the right person for the job.